Occupying a former coconut plantation in an idyllic location on Bahia's sandy coastline in northeastern Puerto Rico, the St. Regis Bahia Beach Resort is without a doubt the pearl of the Caribbean. The resort is bordered by the 5,000 acre Espíritu Santo Naturel Reserve.
It is a convenient 25 minute drive from Old San Juan and San Juan's Luis Munoz Marin International Airport and the El Yunque National Rainforest in the background. Surrounded by exotic foliage and exquisitely curated and landscaped grounds, tension drifts away. An oasis of calm teaming with local wildlife where conservation has a leading role in protecting endangered species, this former coconut plantation occupies 483 acres with 65% dedicated to green areas, sanctuaries and nature trails. The grounds include two miles of pristine private beach and an ocean front golf course, whose flowing fairways, designed by Robert Trent Jones Jr. weave through the mangroves. The St. Regis Bahia Beach Resort is the Caribbean's first and only Certified Gold Signature Sanctuary certification by Audubon International. This luxurious resort, blessed by nature, introduces an unrivalled dimension of luxury and bespoke hospitality to Puerto Rico.

Set in such a romantic environment it is easy to find the ideal state of relaxation staying in one of the 139 magnificent rooms, where private terraces give on to spectacular ocean views. Surrounded by verdant foliage, all the rooms are exquisitely furnished to the finest details, and meet the highest environmental standards. Guest rooms and suites feature one king or two queen size beds clothed in Pratesi linens, a walk-in closet, oversized desk, custom-designed furnishings, and state-of-the-art technology. There are 35 spacious and elegantly luxurious suites all of which, of course, include the incomparable St. Regis signature butler service, also experienced in New York and Abu Dhabi. At the most exclusive level, for nights spent in this amazing resort, there is the 2510 square feet Governor's Suite, perfect for memorable gatherings, be it private or business.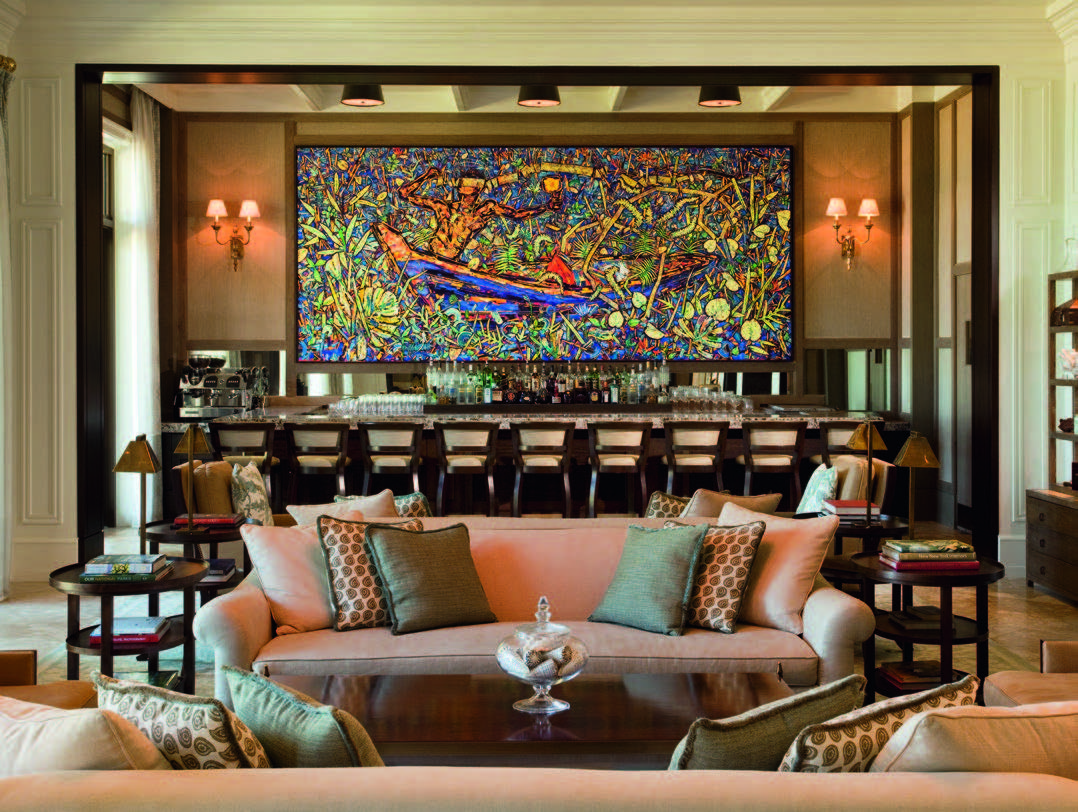 The pristine beach of Bahia Mar is a short walk away and can be reached by foot or with the golf cart available with this property for hours of relaxation and stress free strolling. After a refreshing ocean dip, lounging in the shade under one of the palm trees is an option. Beach towels of course are complimentary. If guests are feeling so-minded, there is an extraordinary multiplicity of activities on offer: hiking, bird-watching, running, or kayaking, all within the grounds of the property. The friendly concierge will gladly help with organising all the guests' needs. In the mood for relaxation? Order a Cabana at the pristine pool or laze in a chaise and have cocktails brought to you on the beach. Or unwind with a customised massage at the 10,000 ft sq Remède Spa. The Spa has seven treatment rooms all arranged around a beautiful garden with shady benches, burbling fountains, cold plunge pools and a jacuzzi. Indoors, there are saunas and steam rooms, a nail salon, hair salon, and separate men's and women's areas with luxury showers and lockers where teas, fruits, and cookies are always and readily available.
Younger guests can have an amazing time and careful thought has been given to their holiday experience with full immersion into the marvels of Nature.The fully staffed and supervised Iguana Children's Club in a bright and airy pavilion sits within the grounds where children are encouraged to play. Multifarious recreational activities are on offer and of course, the ever present lure of Nature. Exploring the wonders of Bahia Beach, nature walks, bird watching and turtle –feeding, or boathouse activities for kayaking, paddleboarding and fishing and many more. The clubhouse itself is equipped with individual rooms for the children to enjoy themselves with table games and indoor sports. The reading room, kitchenette, movie room, arts and crafts room and recreation room offer a great source of entertainment for younger guests both indoors and out.
After a long and relaxing day, guests could head out into Old San Juan for dinner, but we strongly suggest trying one of the three restaurants on the property. Seagrapes by the pool, which offers an eclectic menu of Italian and Mediterranean cuisine and across the property overlooking the golf course and the sea, is Molasses. A special tip though, is Fern, by chef Jean Georges Vongerichten, where traditional Puerto Rican ingredients like papaya, mango, yuca and coconut are masterfully played against local grouper, wahoo, and dorado.
In addition to all of the above, the St. Regis Bahia Beach Resort's conference center is the perfect setting for conferences and the spacious elegance of the Astor Ballroom will set the perfect scene for luxurious weddings and grand occasions in true St. Regis style. The event venues can graciously accommodate up to 420 guests.
The St.Regis Bahia Resort offers unparalleled beauty and the tranquillity of a private island. A total tropical paradise experience awaits…